Behind the H
Building the next generation
October 18, 2022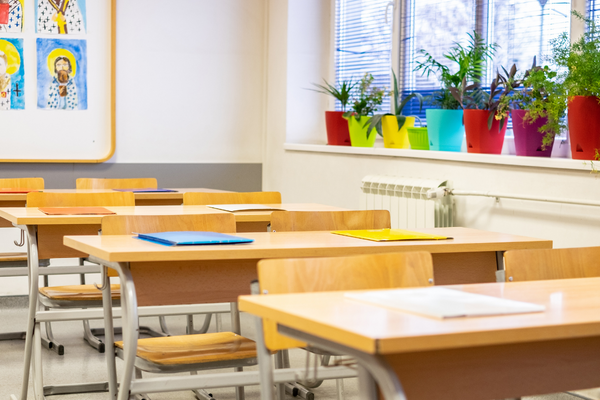 It's crucial to ensure that school buildings are designed to protect children, keeping them safe and secure whilst they are studying. All new building work at schools must comply with the Building Bulletin 100: design for fire safety in schools, and existing school buildings are required to undertake assessments to identify risk and ensure procedures are in place to reduce the possibility of fire.
Not only is the design of the building critical for the physical wellbeing of the students, but educational success is very closely related to the atmosphere in which it happens; a study by Salford University found that a well-designed classroom could improve pupils' performance by 16%.
With these considerations in mind, refurbishment and building work is regularly required within schools. Below we've explored some of the key building control challenges for school projects…
Modular for a quicker build
As a result of term dates, school building work is often subject to strict deadlines and tight timeframes. New structures may be completed in one administrative year or, in the case of extensions, within the three months of the summer break.
Increasingly, we are seeing a move towards off-site building techniques, like mass fabrication and plant assembly, as alternatives to, or in conjunction with, conventional construction methods.
Utilising Modern Methods of Construction (MMC) solutions, such as modular, allows whole buildings to be constructed with factory-made modules, delivered to site ready for placement. Used in this way, MMC could potentially reduce construction schedule times by as much as sixty per cent, invaluable for projects such as the one at Ebbsfleet Green Primary School, which had a typically demanding building programme.
As modular assemblies can be erected whilst site preparation and groundworks are ongoing, the time that site teams are present is minimised, increasing the likelihood of developments being ready on time.
In addition, whilst poor weather on site might slow down traditional building, the construction of modular units in a factory environment can proceed irrespective of weather.
Fire safety is key
For Harwood Approved Inspectors, the project at Ebbsfleet Green school entailed a rigorous evaluation of the scope and structure, to ensure all components met building regulations. In addition, this work involved taking the lead in discussions with local fire and emergency services, to address key fire safety matters.
For educational establishments in England and Wales, fire protection requirements are generally governed by the previously mentioned Building Bulletin 100 (BB100) regulations. This document lists school-specific conditions that are more stringent than general policies in the Approved Documents.
Some examples include limiting access for students to areas higher than the first floor if there is just a flight of stairs, and determining the walking distances to emergency exits should there be a fire hazard.
At Maplesden Noakes School, fire prevention was naturally a key consideration during construction, and we worked closely with  fire safety advisors and the Kent Fire and Rescue Service to confirm that all matters in this regard were addressed satisfactorily.
Acoustics matter
Research has shown that exposure to background noise and substandard acoustic environment can adversely impact students' performance in school and the well-being of teachers.
Educational buildings not only have to meet the specified requirements for construction, but frequently have specific demands, and the purpose of the classroom may affect the precise configuration and specifications of certain parts of the space.
For instance, acoustic qualities for music classrooms or amenities for deaf learners will have specific acoustic design requirements, and in all schools will be subject to design checks and on-site inspections.
Working together
At Harwood, we know through experience that early collaboration is key to a successful project. The sooner Building Control can be included, even as early as design stage, the greater the chance that any concerns or challenges can be worked through, avoiding any potentially negative impact or delays to project deadlines later on in the construction process.
Sharing with the sector
When it comes to embarking on any project, it pays to be forward-thinking in terms of safety and use, but is particularly important to give due consideration to the special status of a school building.
To summarise:
Timings: schools often require tighter build schedules
Fire safety: guidelines are different and more stringent for schools
Collaboration: early involvement for all parties gives a project a greater chance of success
Acoustics: will the building provide the right environment for learning?
Ease of access: will disabled visitors or occupants have the ability to move through a building easily?
If you're interested in discussing an upcoming project with Harwood, please click here or e-mail enquiries@harwood.uk.com.