Events
Supporting talent, on and off the track and pitch
November 29, 2021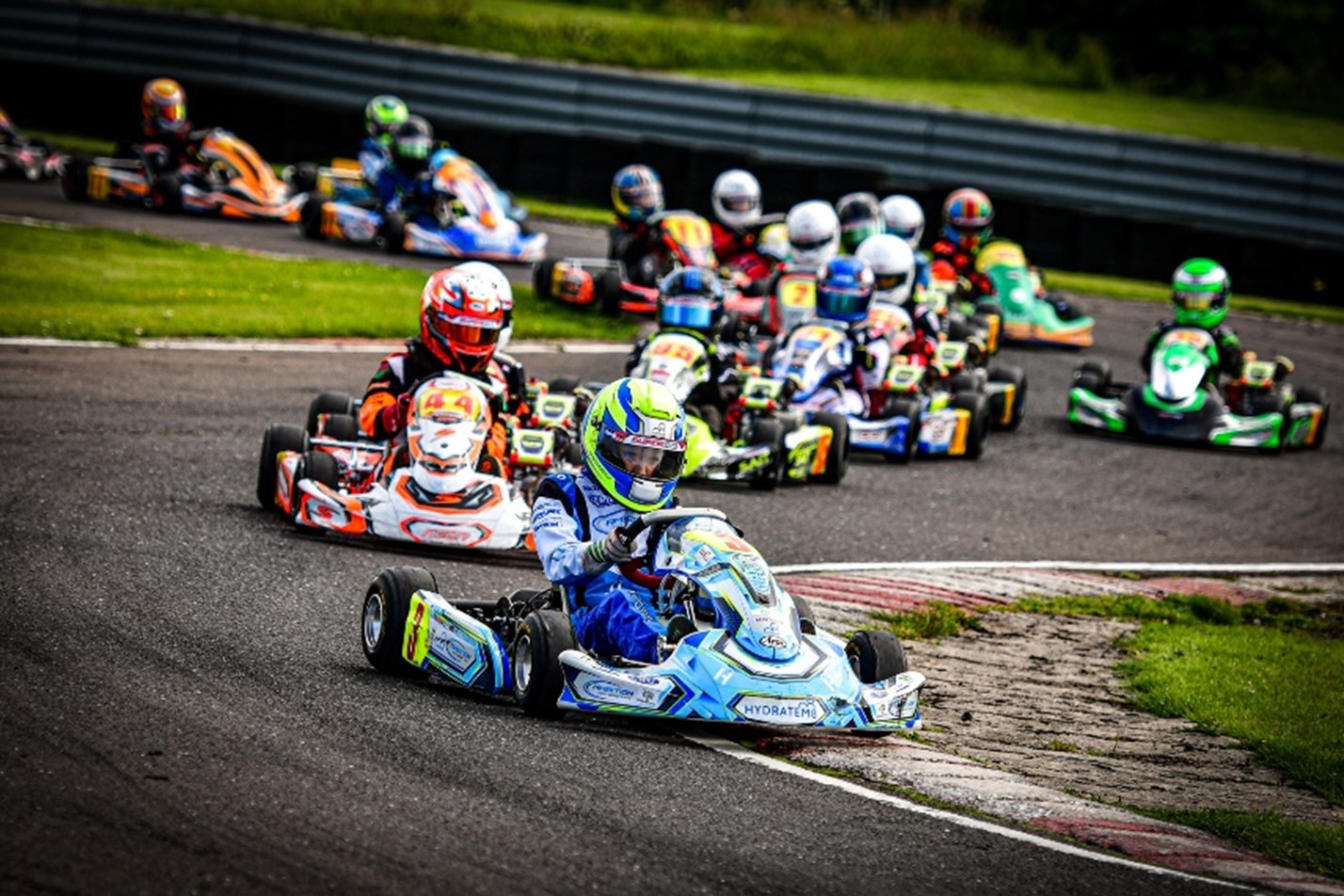 Encouraging personal and professional development and helping people to be their best is a core value at Harwood. This applies to our team members but also to a number of rising sports stars who we're pleased to sponsor.
Harwood has sponsored Jayden Sherwood, a motorsport star of the future, for four years now and we've all enjoyed watching his karting career progress during this time. More recently, we've also become bat sponsor for Jordan Cox, who plays for Kent Cricket. Here's an overview of their impressive 2021 seasons…
Jayden crowned Vice Champion
After a strong performance in the 2020 Super One Championship, finishing 3rd in the standings, 2021 was looking to be a massive season for Jayden.
With the winter lockdown restrictions, he was unfortunately unable to race during most of the winter period. April came around and Jayden entered the 1st race possible post lockdown, which was round 1 of the UK IKR Championship at Shennington. Although he only entered as a guest driver, Jayden had a great weekend with closely fought battles throughout every heat and finished the day by winning the final. This got his 2021 season off to a perfect start.
The season continued with a controversial race at Glan Y Gors, North Wales for Round 1 and 2 of the Super One Championship. Jayden started the Sunday final 2nd on the grid and by lap 2 he was leading the race. On lap 6, the kart behind made contact with Jayden's at over 55mph and Jayden was pushed off track. He re-joined in 8th place, but Jayden managed to push hard to finish the race 5th, and placed 3rd in the championship.
Rounds 3 and 4 at Clay Pigeon Raceway in Devon saw Jayden achieve 2nd place on the Saturday and 3rd place on the Sunday – a double podium celebration moving him up to 2nd in the Championship at the halfway point of the season.
Rounds 5 and 6 were certainly ones to remember, with Jayden's hard work and dedication resulting in his 1st Super One final win! As the championship drew to an end, Jayden continued to push hard during rounds 7 and 8. His cool and consistent head during these final rounds saw Jayden crowned 2021 Super One Vice Champion, a fantastic achievement.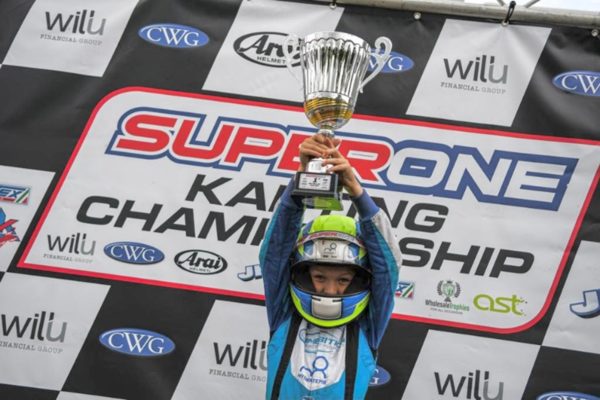 Jayden's success didn't stop here, however!
In between the Super One races, Jayden also competed in 3 of the 5 BKC rounds. Jayden was looking forward to returning to Llandow in South Wales for round 2, where he took part in his 1st national Honda cadet race 3 years prior. Despite missing Friday's practice, Jayden enjoyed a clean sweep of pole positions, 3 heat wins, a pre-final win and went on to take the final win.
Round 3 at Fulbeck, Nottinghamshire, was a tough weekend for Jayden, getting disqualified from qualifying due to an innocent flag infringement, meaning that he had to start every heat from the back. Despite this, he managed to push through the pack to finish the pre-final 2nd, which placed him 2nd on the grid for the final. Proving that he wasn't just on track to make up the numbers, Jayden had a strong start off the line and dominated the race to take the final win!
It was back at Glan Y Gors for round 4 where Jayden successfully wrapped up his Honda Cadet career. With no expectations other than to simply enjoy the final race before moving up a class for the 2022 season, Jayden celebrated the end of this chapter as 2021 Super One Honda Cadet Vice Champion. Huge congratulations Jayden, from all at Harwood!
"I would like to say a massive thank you to Harwood Building Control for all their help and support throughout the 2021 season," said Jayden. "This is the fourth year Harwood has supported me and I'm looking forward to our journey continuing in the UK next year, as well as in Europe as I compete in the Rotax European Winter Cup and the Rotax European Championship."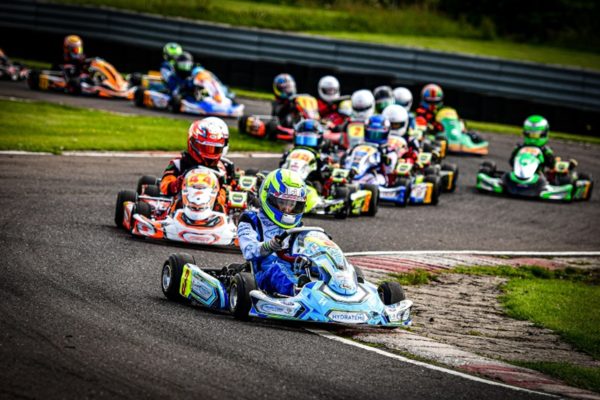 A spectacular season of spectators for Jordan Cox  
From track to pitch, we're proud to bat sponsor Jordan Cox, who plays as a wicketkeeper-batter for Kent Cricket.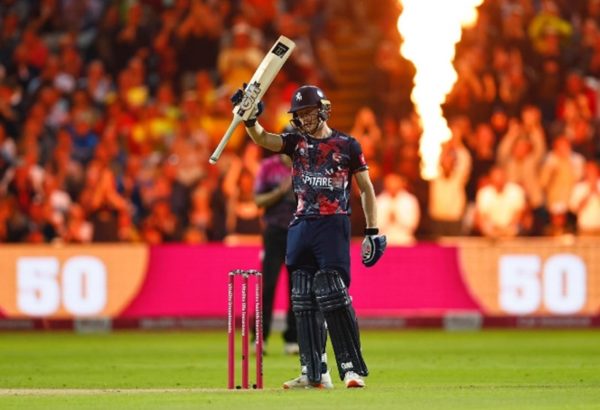 This season, as a county, Kent struggled with the red ball County Championship format. Jordan was asked to continue opening the innings and he rose to the challenge, finishing the season with an average in the red ball format of 28, fourth for the county.
The white ball format, in particular the T20 Blast, was a completely different journey for the club. In the preliminary group stages, the club performed well, topping the south group. Jordan found himself in the top 10 in the country with his batting performances, and the club as a unit grew in confidence, believing they could go all the way.
A home tie quarter final at Canterbury against the Warwickshire Bears found the Kent Spitfires in top form with both bat and ball, with the skipper – Sam Billings – topping the batting, setting a very defendable total. The club's bowling unit, along with Adam Milne (NZ), made light work of getting Kent to finals day at Edgbaston.
Finals day and first up, Kent Spitfires played their great rivals, Sussex Sharks. Deebz (Daniel Bell-Drummond) got the club off to a great start and Stevo (Darren Stevens) hit them to all parts latterly. Unfortunately, Jordan's first ball was a golden duck, a first for his season.
Despite this, with a target set, Kent's bowlers hit their straps from ball one and with a great team effort in the field, the club made light work of defending their total and looked forward to the Somerset Sabres in the Final.
Lights were on for the first time in the day and the spectacle began…
Kent Spitfires lost the toss, but got put in to bat first. This suited the club's game plan. Zak and Deebz started well, getting 44 off the first 5 overs. Then, disaster struck and Kent lost 4 wickets for 30 runs and found themselves 75 for 4.
Commenting on his second time to the crease that day, Jordan said: "My first thought was, 'don't get another first baller!' The atmosphere was like nothing I've ever experienced before. 25,000 screaming fans dressed up as Charlie Chaplin and Fred Flintstone, it was one to remember. The noise was immense and I got myself off the mark. Jacko and I went about rebuilding our innings, adding 40."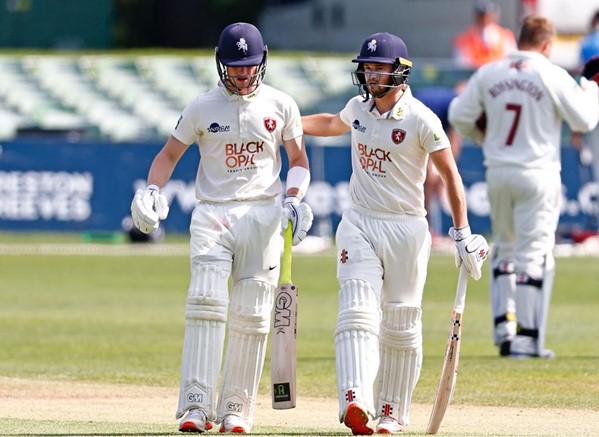 After Jacko (Jack Leaning) went out, Stevo joined Jordan and the pair kicked on, feeling ready to post a score. Jordan targeted De Lange and took him for 16 in his second over. Together, with momentum on their side, Jordan and Stevo posted 167.
Somerset, in reply, lost their key man – Tom Banton – third ball of the first over. At this point, Kent knew they were in…
The rest, as they say, is history! A catch taken by Jordan in the deep that was given as 6, and a special moment for him to dismiss their skipper, Lewis Gregory. A catch that will be remembered for many years to come.
Kent Spitfires took the trophy and so ended a season that will be recalled by Jordan for a lot of special moments.
"Being named Player of the Match for the biggest game of my life was an incredible achievement, and one I will never forget," continues Jordan. "I'm looking forward to another great season next year and would like to thank Harwood for their continued support."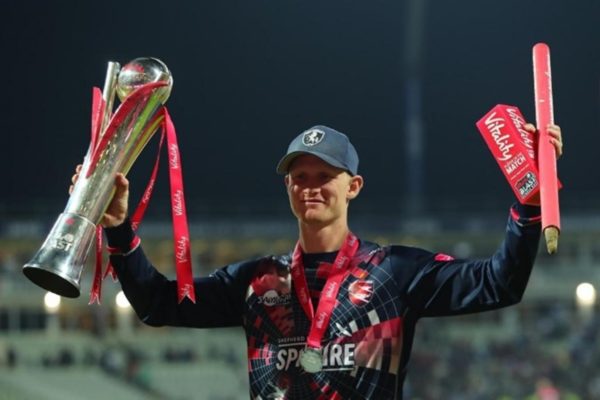 Whether in sport or business, encouraging talent is of great importance to Harwood. David Woodward, CEO at Harwood, comments: "We hope that our sponsorship of these young sportspeople will make a difference, helping them to become some of the nation's brightest sporting prospects. Likewise with the support we provide our employees looking to further their building control careers, helping junior surveyors in getting up and running with their qualifications and Charterships. Our aim is to build the best team of Approved Inspectors, and we can only do that by fostering a culture of continuing development. I'm really looking forward to seeing how Jordan and Jayden – and our team – progress over the coming years."