News
Celebrating a first-class achievement
October 2, 2023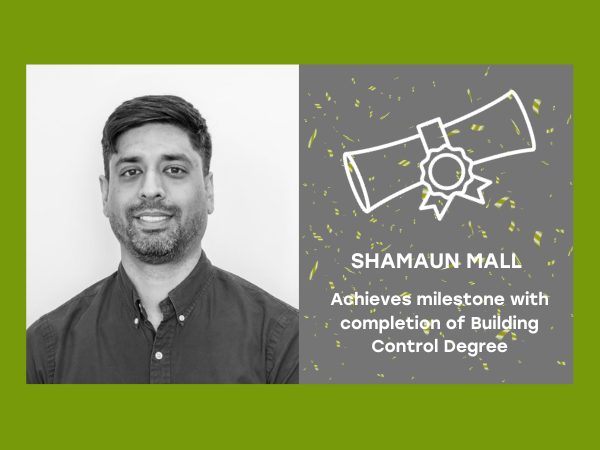 Celebrating a first-class achievement
Harwood's Assistant Building Control Surveyor, Shamaun Mall, has recently achieved a significant milestone in his career by completing his Building Control degree.
A background in construction
Having completed an HNC in Construction and Built Environment at Bedford College while working on construction sites, Shamaun joined the Local Authority as an Apprentice Building Control Surveyor.
Over the course of five years, he gained valuable experience and honed his skills, focusing primarily on the residential sector. His time with the Local Authority not only provided him with practical knowledge but also instilled in him a deep understanding of the detail involved in ensuring the safety and compliance of residential construction projects.
Joining the Harwood family
Shamaun joined the Harwood team earlier this year, whilst in the last of his four-year degree course at Wolverhampton University. Studying and working at the same time is undeniably challenging, but in July 2023, Shamaun passed his BSc (Hons) in Building Control degree with flying colours, achieving a first-class qualification.
Jason Lee, Harwood Building Control Manager, comments: "We've all been very impressed with Sham's hard work and dedication to his studies and are delighted he now has the Building Control qualification to demonstrate his competency.
We're pleased to have supported Shamaun on the run-up to completing his degree and to have him as an integral part of the team."
Harwood is proud to have supported Shamaun journey and as he takes on project management roles with the support of his Harwood colleagues, Shamaun's journey of personal and professional development within the company continues.
Connect with Shamaun on LinkedIn, or find out more about the Harwood team.