Behind the H
Meet Stuart our Landscape Designer
April 24, 2020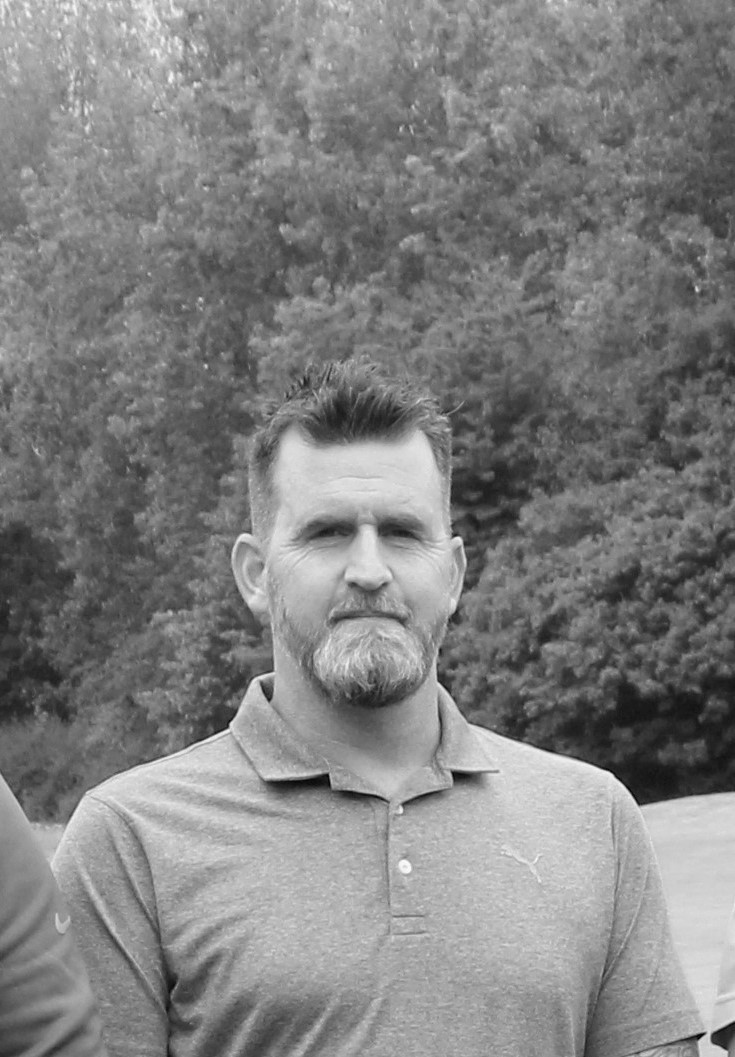 How does golf help with landscape design?
Phillipa talks to Stuart about all things Landscape and how he became involved with Harwood as a Landscape Designer, how it all began and he vision for the future.
How long have you been working as a landscape designer?
It all started at Hadlow college back in 2004, with a short design course that culminated with me being offered an unconditional degree place under Kemal Mehdi. The guy was so not what I had expected as a head of design at Hadlow. He even managed to get me to do life drawing classes that improve the use of space and train your eye to developing scale and proportion. He always had time for me, I was forever sketching layouts and trying things, a very passionate man about the entire industry.
What/Who influenced you down this path? 
Mum, who you knew so well.
She had done it for years alongside her main career and was getting more and more recognition for her work, she needed some help, so she convinced me to get involved and it all went from there! Very soon we were doing larger and larger projects and working at the RHS Shows.
I always remember wherever we lived, we always had a great garden and in the last house she had made a very creative garden which was built around the Design Studio. Clients used to love it.
What did you do before?
I spent most of my twenties working in the mobile phone industry alongside chasing a dream to become a professional golfer. My first club was Broome Park, then I moved to Princes and Chart Hills with my best years playing for Canterbury. Most of the summer was spent travelling all over the UK playing in the major amateur competitions and representing Kent and Canterbury in the local leagues.
This culminated in 2003, when I got through to the Final Qualifying for the Open at Royal St George's.
Interestingly a major skill you learn in golf is visualisation, it's such an important thing to have in golf and it transfers over to Landscape Design, it is one of my best skills. Without it you can never really get the best from a site and it allows you to see sites in a different light especially where there could be problems.
How did you come to work for Harwood?
Hahaha … well this starts many years ago, on the football pitch where I met David, he was a goalie, playing for Chartham, a club I had been at for a while. We had a great bunch of lads.
We kept bumping into each other in town and I was in between work, David had an idea he had always wanted to do. So, after a few meetings which were held mostly in local hostelries! Harwood Landscaping and Construction was born and here we are some 3 years later!
What is the smallest garden you have created?
5m x 4m at the Hampton Court Palace Flower Show, we won a bronze medal and if I had not written such a detailed brief, it would have been Gold! Afterwards Tom Stuart Smith approached me, he was on the judging panel and said my brief cost me, as the garden was perfect, but I had deviated from the brief in some colours I'd stated and the plants (that hit those colours) had started going over in the heat so I didn't place them. Most briefs for RHS shows are 2/3 sentences, I had written half a page, but they are so important and even today it still annoys me.
What would you love to do in the future? Enter a garden design at Chelsea Flower Show?
That's on the cards, I've built for others at Chelsea so know how much utter organised carnage it is. There is a tremendous feel of teamwork onsite across all the gardens and the same faces are always there year on year.
One thing with any RHS show that is paramount to a designer is planning, more planning and add some more, you can never do enough and a dry run off site 3 months before is a great idea!
Are there any other designers you would like to work/collaborate with? 
Obviously, the ones that were so important when I started, Andy Sturgeon, Chris Beardshaw and Tom Stuart Smith, I always liked Cleve West's work too. I almost worked on a project near Canterbury with Sarah Eberle but she didn't get appointed which was a shame as the initial site visit went very well.
Where do you see landscape design in the future and what are the trends now?
Good question, as its changed so much since I started. We used to hand draw everything and now I hardly use a sketch book. I would like to change that and have a more "designer like" office/studio arrangement where the sketching and hand drawn work takes place before we use the CAD software.
Technology is improving as are the materials we use with the underlying message being sustainability and environmental impact. We must do more for the planners in terms of ecology and protection of the landscape.
As for trends, we are seeing a revival in render due to Monocouche surface finishes.
Less formal and symmetrically placed planting schemes to a wilder more natural look and feel.
Porcelain as a floor and wall finish is now being made for external use more and more.
Planting for wildlife and increased biodiversity.
If you would like to contact Stuart regarding a project, he and the team will be happy to help.