News
Harwood joins forces with Reds10 for modular schemes
April 5, 2023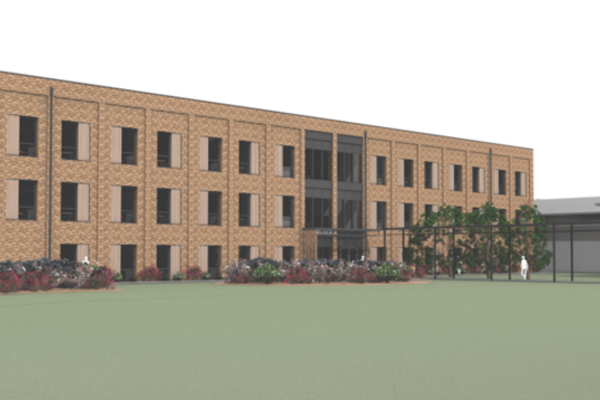 Harwood joins forces with Reds10 for modular schemes
Harwood continues to provide building control advice in major public sector construction projects. These key developments have included work for the Department for Education (DfE) and for the British Army and Defence Infrastructure Organisation (DIO).
Our services were requested by modular construction specialist Reds10, which specialises in offsite construction. Offering a complete turnkey service, Reds10 has extensive experience successfully delivering private and public sector construction projects.
When it comes to Building Control, there are some clear benefits to modular construction, as Shaun O'Neill, Harwood Building Control, Project Manager explains: "Modular units meet the same construction standards as in traditional building, but as the modules are produced offsite, ensuring they comply with regulatory requirements is more convenient."
Shaun continues: "Multiple units can be examined in parallel at the same production stage, with any problems corrected at the assembly line. Lessons drawn from earlier developments may be applied to enhance subsequent modules' standards.
"Our experience with modular construction projects and our longstanding relationship with Reds10 has resulted in some exciting projects we're very proud to have been part of."
MOD Army Training Centre Pirbright, Woking
Harwood collaborated with Reds10, Defence Infrastructure Organisation (DIO) and Landmarc Support Services (Landmarc) to provide building control advice for the new accommodation at the Surrey training facility constructed as part of the British Army and Ministry of Defence's Net-zero Carbon Accommodation Programme (NetCAP).
All buildings within this award-winning scheme, which includes over 70 carbon efficient single and double storey accommodation blocks for eight army training camps across the UK, have achieved Defence Related Environmental Assessment Methodology (DREAM) 'Excellent' ratings – the assessment tool developed specifically for the Ministry of Defence building projects.
Thanks to the existing long-term relationship, Reds10 brought Harwood on board with Shaun as Project Manager to provide Building Control advice at the Pirbright site, which included early advice on design layouts and being on hand to review and make recommendations as the project progressed.
Tom Hook, Associate Director – MOD at Reds10 explains why they choose to work with Harwood on this project: "Reds10 and Harwood both value efficiency and clear communication, which is apparent in our work together. It's been a pleasure having Harwood onboard for our work on the NetCAP scheme."
Imjin Barracks, Gloucestershire
One of Harwood's most recent projects with Reds10, is the construction of new Single Living Accommodation (SLA) at Imjin Barracks near Innsworth, Gloucestershire. Procured by the DIO on behalf of the British Army, the £13 million expansion is scheduled for completion in 2023 and will feature 69 new ensuite bedrooms.
Part of a wider £1.2Bn investment, Imjin Barracks is the first site to benefit from the Army's Single Living Accommodation Programme, set to deliver 8,500 SLA bedspaces over the next 10 years. With modernised facilities, the new housing will improve community living for the personnel who train there.
Utilising modern methods of construction (MMC) for this project means that the majority of the work can be carried out off-site, ensuring (amongst other things) a faster completion time. At Harwood we will again be on hand to advise on building control issues to ensure that the building runs as safely and efficiently as possible.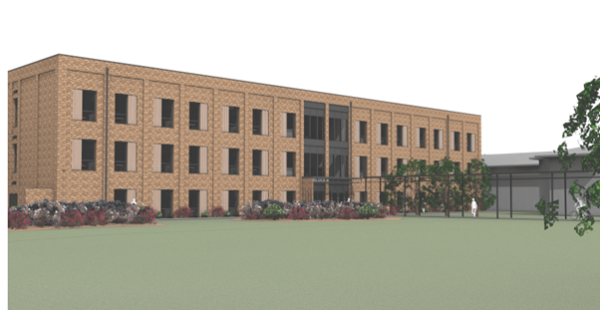 The Department for Education Off-site Schools Framework
Harwood also worked alongside Reds10 after they were appointed on the DfE's new £3bn Off-site Schools Framework in 2020.
The four-year programme was established as part of the Government's initiative to modernise and make efficiencies within capital building programmes. Using MMC benefits projects through a reduction in embodied carbon, faster delivery times and fewer trades on site.
Early involvement with these projects has been essential to ensure the design was to regulatory specification and we are proud to have contributed – in helping to develop these new schools – to the environmental credentials of the nation's educational facilities.
Schools currently progressing within the framework include Waterside Primary Academy in Nottingham Kent SEND School on Isle of Sheppey, and Pathways School in London.
Adam Dodd, Operations Director at Harwood, anticipates steady progress in the conversion to MMC:
"Working with Reds10 is always a privilege and enabled us to further solidify our expertise in MMC, a method of building that drives efficiencies, innovation and cost savings. MMC can reduce the impact construction has on the environment, make inspections easier, and result in faster project delivery times.
"We look forward to continuing to work with Red10s across the upcoming projects within the DfE framework and building on our successful partnership."
For further information about Harwood and how our building control services can bring value to your developments, contact our team at +44 (0)1227 931 777 or email enquiries@harwood.uk.com.