Events
Score! Celebrating teamwork and successes
October 18, 2021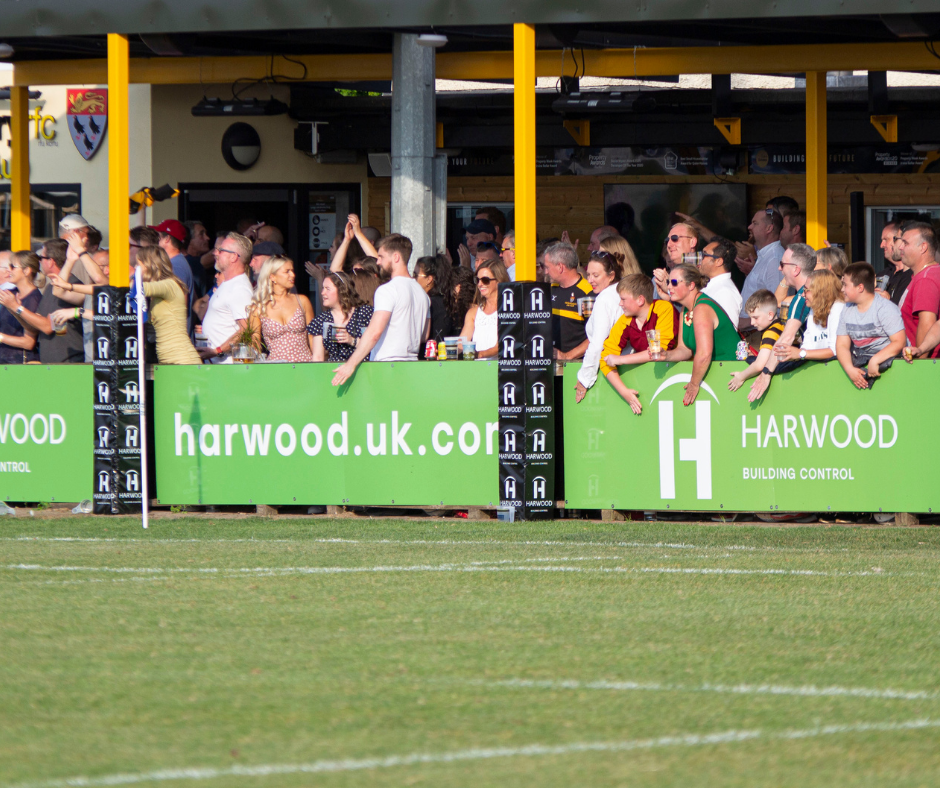 After what has undoubtedly been a very challenging eighteen months for everyone, we felt strongly that 2021 should be the year to support our local community, celebrate great working relationships and treat our hard-working team to some well-deserved fun!
David Woodward, our CEO comments, "From our annual party with family and friends, to the dramatic coastal course at Royal St George's, it's been a special year of events for us. We're very proud of our dedicated team and the strong relationships we have built with our clients – it was important for us to recognise that, and of course we're all thrilled to be enjoying social occasions together again."
Cheese tasting with the experts and an evening of fine dining with Smith & Wollensky.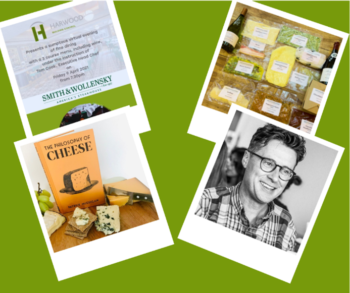 As we all looked forward to longer days and warmer weather, Patrick McGuigan, one of the UK's leading cheese writers, took staff and clients on a cheese tasting journey of discovery! We all learnt a lot – who knew cheese could be so much fun?!
In the spring, Tom Cook, Executive Head Chef, and Nathan Evans, Managing Partner at Smith & Wollensky, hosted a virtual evening of fine dining for some of our team and clients.
Having received the ingredients from Smith & Wollensky the day before, Tom and Nathan talked us through each step of "How to cook the perfect steak" and accompanying wines, resulting in a sumptuous three course meal for two.
It was a thoroughly enjoyable evening, and fascinating listening to Tom and Nathan share their knowledge and experiences in the hospitality business.
The 149th Open at Royal St George's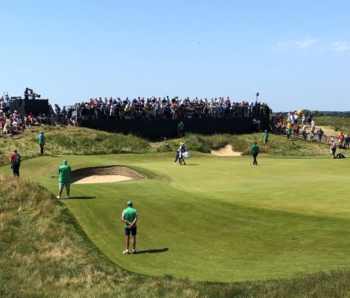 We kicked off the summer celebrations in style with none other than the 149th Open at Royal St George's in July.
Kent was bathed in glorious sunshine as the Championship returned to Sandwich, a spectacular – but challenging to play – venue on the coast.
Having watched Collin Morikawa win the open and become Champion Golfer of the Year, we all agreed that entertaining clients doesn't get much better!
We were delighted to be joined by our friends from Jenner Contractors, GSE Group, Quinn Estates, On Architecture, Clague Architects and London Belgravia Surveyors.
The Longest Day Lunch
We enjoyed a spectacular four course lunch at the Canterbury Rugby Club at the end of July, with a Six Nations themed menu! Joined by our colleagues from Azets, Kier and Morton Waters, we were entertained by comedians, magicians and guest speaker Simon Shaw.
Live music got us all up dancing and a brilliant day was had by all!
In full swing at the Harwood summer party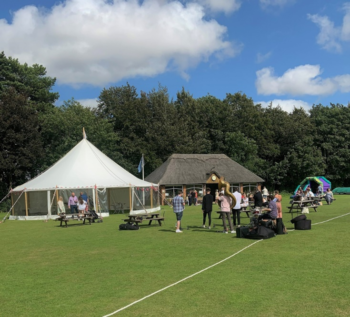 Hosting a summer party in the UK can involve deckchairs and Pimm's…or umbrellas and wellies!
Luckily, the great British weather was kind to us and on Sunday 15th August we held our summer party, celebrating with our team and their families.
The St Lawrence & Highland Court Cricket Club in Canterbury was our picturesque spot for the day, and with fabulous food, a bouncy castle, face painting, fire display artist and live music from No Limits Street Band, adults and children alike were kept entertained all afternoon.
Thanks to everyone that made it such a special occasion, we're already looking forward to the next one!
Teeing off our charity golf days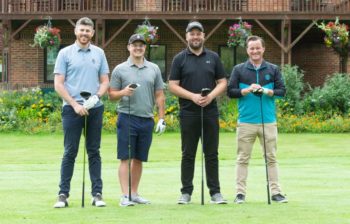 The first of several charity golf days was held in August at Faversham Golf Club, organised by OSG Architecture on behalf of Canterbury Rugby Football Club to raise funds for Clark Jet Rugby Sport, a charity that provides rugby training to homeless and orphaned children in the Philippines.
On the Harwood team we had Ben Cheeseman, Eddi Taylor from Azets, Luke Harrison from On Architecture and
Chris Gremo from Red Key Concepts LTD
The course was in great condition and a fantastic day was had by all. It was wonderful to see so many local contractors and consultants entering teams to support this great initiative. Congratulations to all the winners (unfortunately we couldn't hold onto our title!)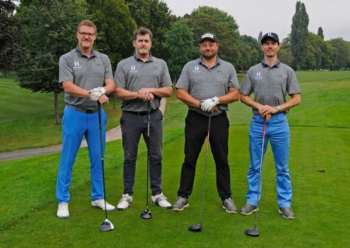 We enjoyed another fantastic day of golf and fundraising for The Denness Luckhurst Foundation in September.
On a glorious morning, 18 teams came together at The East Course at Sundridge Park Golf Club for the annual Denness-Luckhurst Golf Day, in aid of this year's charities The Lords Taverners and Mercy Ships. Harwood are proud to support the foundation by sponsoring the trophy.
The defending champions from Harwood, Messrs Wilson, Luckhurst, De-Pledge and Williams made an excellent defence of their title in scoring 144 (-28) but, unfortunately, this year they were pipped to the post by the team by captained by long term DLF stalwart Dipak Karki scoring 148 (-32).
This year's event with auction and donations raised over £11,000.00 which is a tremendous achievement by all involved. Congratulations to The Denness Luckhurst Foundation for the continued hard work, we'll be back again next year!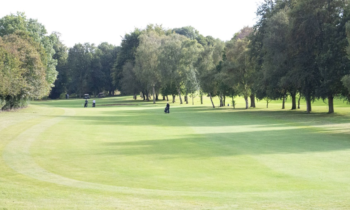 On Friday 1 October, Canterbury Rugby Club held their golf day at the picturesque Faversham Golf Club. Twenty-two teams took part, with Harwood entering two teams captained by Ben Cheeseman and Adam Dodd.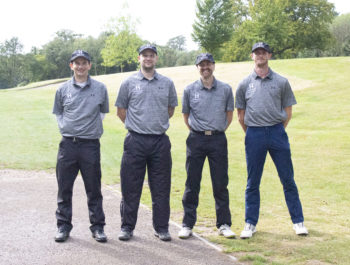 Adam's team included Matthew Bennett from APX Architecture and Lee Allan from Murston Construction Ltd, and Ben's team included Dan Town from OSG Architecture Ltd.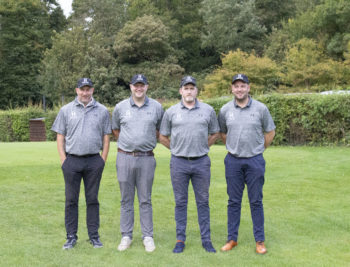 Adam Dodd, Operations Director at Harwood comments, "We all had a great day, followed by a fantastic dinner and prizegiving, where the Harwood team captained by Ben were runners up, winning some very smart golf bags! Many thanks to Canterbury Rugby Club for laying on a fabulous day – even the rain held off!"
Harwood sponsor Canterbury Rugby Club (CRFC)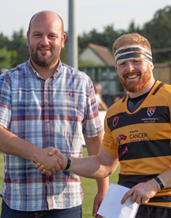 On Saturday 18th September, Canterbury rugby club hosted Worthing in their first home game of the season!
We are proud to be continuing our sponsorship of the rugby club and to be able to support our local community and players. As David commented last year, "We fully appreciate the challenging times for the club – we will support the club through good times and bad, for as long as we are able, and confirm we will maintain our sponsorship commitment to show our support. We are all part of the team that makes CRFC, so let's get behind them and make sure we have a #OneClub to build on and create a season to remember."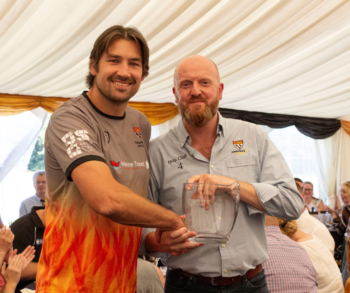 David was presented as Match Sponsor with an engraved glass ice bucket from Head coach Matt Corker, and Ben presented Man of the Match to Hooker Tristan King.
The Marine Travel Ground hospitality was excellent as always, and together with our table of guests from Red Key Concepts, McConkey Architects, WW Martin, Jonathan Hill, Tom Waitt, we enjoyed the late summer weather!
We've had a great year of events so far, and are delighted to have been able to share these times with our clients and colleagues. Thank you again to all who attended, took part, and made each event so memorable. Here's to another season!
For more information about Harwood and working with us, get in touch today on +44 (0)1227 931 777 or email enquiries@harwood.uk.com.
If you are looking to mitigate risks in terms of delays or unexpected costs, the experience of Harwood Approved Inspectors ensures buildings are safe for their users by identifying non-compliant features and working with design teams and contractors so they can create real-world solutions to construction challenges.
Based in Kent, Harwood provides Approved Inspector building control services for commercial construction projects across England and Wales. Our highly professional yet approachable approach and pragmatic attitude ensures the details that matter are taken care of.