Case Study
From Peaks to Paddles: There's No Stopping Albert's Charitable Dedication
August 16, 2023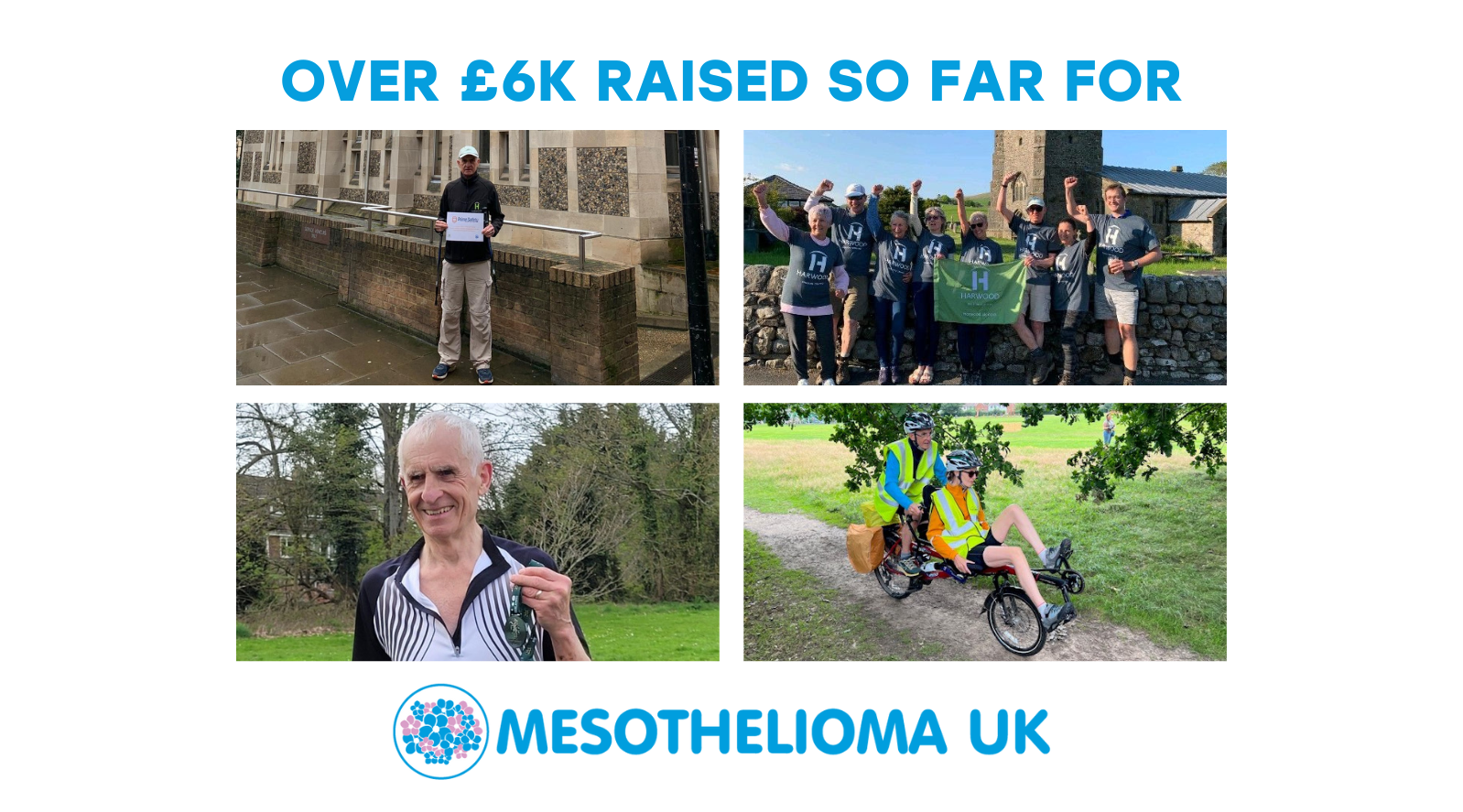 From Peaks to Paddles: There's No Stopping Albert's Charitable Dedication
At Harwood, where dedication and innovation are the building blocks of success, it's no surprise that our team members exhibit an extraordinary commitment to causes close to their hearts. Recently, Albert Walton, a valued Site Inspector at Harwood, has become the embodiment of these values.
Celebrating his 75th birthday, Albert embarked on a remarkable series of physical challenges with a goal close to all of us in the construction industry. His mission? To raise funds for Mesothelioma UK, a charity that supports people affected by this cruel disease.
Albert has raised over £6,000 of his £7,500 target and he's only just over halfway through!
A Hard Won Journey
Albert's first challenge was a monumental 109-mile pilgrimage from Southwark Cathedral to Canterbury Cathedral, sponsored by Prime Safety, accredited Health & Safety training providers and consultants in Kent.
On the first day, Albert made his way to Dartford on a 22-mile walk, despite wet conditions and unexpected navigational challenges. On day two, he powered through the Darenth Valley and North Downs Way, covering an impressive 24.5 miles. The third day was arguably the most demanding, as Albert tackled a gruelling 26.5-mile stretch along the North Downs ridge, demonstrating his indomitable spirit.
Finally, his sister joined him for the last 13 miles on day four, a fitting conclusion to this epic walk.
Not long after that, Albert took on the Ashford Half Marathon with sponsorship from a serviced accommodation provider Like Your Home. The planning was meticulous, with a fantastic training regimen and assistance from an experienced runner friend. Despite the physical toll and the need to dig deep into his reserves, Albert crossed the finish line in just 2 hours and 19 minutes. His achievements were not just a personal victory but a win for all those affected by mesothelioma.
Then came the Yorkshire Three Peaks Challenge backed by your very own Harwood Building Control. With some of the Harwood team joining Albert for this challenge, this 24.5-mile trek was a test of endurance, teamwork, and sheer determination. Albert's day began with a glorious ascent up Pen-y-Ghent, followed by the challenging climb and descent of Whernside.
The last peak, Ingleborough, was the peak of a long day, but Albert's commitment never wavered. Along with his team, he completed the challenge in just 10 hours and 17 minutes, a time that even seasoned climbers would be proud of.
Perhaps the most touching moment of this inspiring journey was the Trans Pennine trail by tandem. Albert was joined by his wife Davina for this 212-mile ride across four days. Together, they navigated picturesque landscapes, historical towns, and rugged terrains. HawkSafe, providers of Health & Safety consultancy and training, were gratefully accepted as sponsors of this stage.He's Not Finished Yet!
He's Not Finished Yet!
Albert's adventures are not yet over; several challenges await him, including a 75km cycle time trial, a triathlon and 1-mile open water swim, and a 52-mile kayak around the Isle of Sheppy with Davina.
His determination shows no signs of waning, and we at Harwood continue to be inspired by his every step.
Albert's efforts are not just a reflection of his own character but are emblematic of what we stand for at Harwood. His determined spirit, compassionate drive, and tireless pursuit of a noble cause align perfectly with our core values. In the construction industry, where the potential risks of asbestos exposure are all too real, Albert's mission is a poignant reminder to all of us about the importance of safety, empathy, and community.
The support Albert received throughout his remarkable journey was not confined to his colleagues and family at Harwood; it extended into the local and Kent business community as well. Local businesses rallied behind his inspiring mission, through sponsorship, providing essential supplies, logistical aid, and encouragement.
A Symbol of Hope
As we look forward to the next phase of Albert's journey, we invite you to join us in supporting this incredible cause. Albert's achievements are not just personal milestones but symbols of hope for those affected by mesothelioma.
We believe in more than just excellence in building control – we believe in building a community, fostering relationships, and creating a legacy that extends beyond the commercial and domestic sectors. Albert's 7.5 challenges journey is a testament to these values, and we're proud to stand by him.
If you've been heartened by Albert Walton's journey and would like to pledge support to Mesothelioma UK, donations can be made through by visiting his JustGiving page.