Behind the H
Supporting the continued growth of the business
September 28, 2021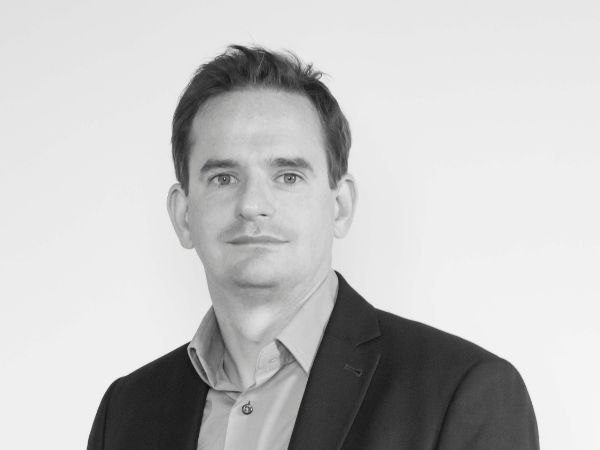 Operations Director Adam Dodd, BSC (Hons) MRICS C.Build E MCABE
Harwood was delighted to welcome Adam Dodd to the role of Operations Director in June 2021. Having spent almost two decades at Sweco (formerly MLM Group), Adam is a Chartered Building Control Surveyor and Fire Risk Assessor who brings a wealth of diverse experience in commercial projects.
With his feet barely under the table, we caught up with Adam to get his first impressions of life at Harwood, to learn more about his past, and to get the lowdown on his future priorities.
Adam, please tell us about what you do at Harwood.
My role is Operations Director and I have a seat on the Board, so I'm involved in overseeing the direction of the company, organising the technical teams, and making sure we have a grasp on financial control and auditing in terms of our key performance indicators for CICAIR – making sure our statutory functions and procedures are all in place.
Are there other aspects to your role?
Training is something I'm passionate about. I'm both an APC Mentor and APC Assessor for RICS, and in the past I've set up training programmes for the RICS and CABE. I'll be overseeing the graduate training scheme at Harwood, working with Kevin (Blunden) to support junior surveyors in getting up and running with their qualifications and Chartership. With the new Building Safety Regulator and Building Safety Bill, we'll also be looking to ensure staff are registered as licensed building control surveyors and approved inspectors.
What led you to this point in your career?
I'm still working that out! I did a Building Surveying degree in Bristol, but then an opportunity came up at MLM for Building ControI. I wanted to get chartership and they offered me training, so I started in the London office and just loved it. I certainly preferred it to the building surveying work I'd done previously. It was a nice start in the industry for me.
What is it about the job that you like?
I like the fact that the work is constantly varied. One day we could be looking at a 20-storey office building in London, and the next day we might be out in the middle of nowhere looking at a two-storey rear extension. No two days are ever the same. Whether it's school, hospitals or hotels – you name it, there's always something different going on and opportunities to be learning something new.
Are there common challenges from project to project?
Since the tragedy at Grenfell, getting fire safety resolved is the one we experience across most projects. We obviously can't design buildings for clients, but we can give them comfort that the design is going in the right direction, advising on compliance and providing alternative suggestions and solutions.
Is that advisory role why clients value working with Harwood?
Yes, I think a big part of it is the upfront advice and service we give them, so that they don't have problems later in the project. It's about the friendly approach as well – being able to pick up the phone and speak to real people. We also know the market and key players in the South East and have a good reputation. We're seen as trusted experts in the industry – knowledgeable people who you can go to whenever you have a problem.
It's only been six weeks but what's your view of Harwood so far?
You get the real sense that this is a company with a family feel to it. It's friendly, and unlike corporate environments where there are lots of layers, here decisions can be made quite quickly. You can target the issue and get it resolved. Also, for me, I know a lot of the clients in the region, so it's been nice to get back into the local market again.
Finally, if you weren't doing this, where would you be?
I don't really know – ideally playing Cricket or Golf somewhere!
Connect with Adam on LinkedIn, or to find out more about how our building control inspection services can add value to your projects, or more information about how we work with our clients, get in touch on 01227 931 777 or enquiries@harwood.uk.com.